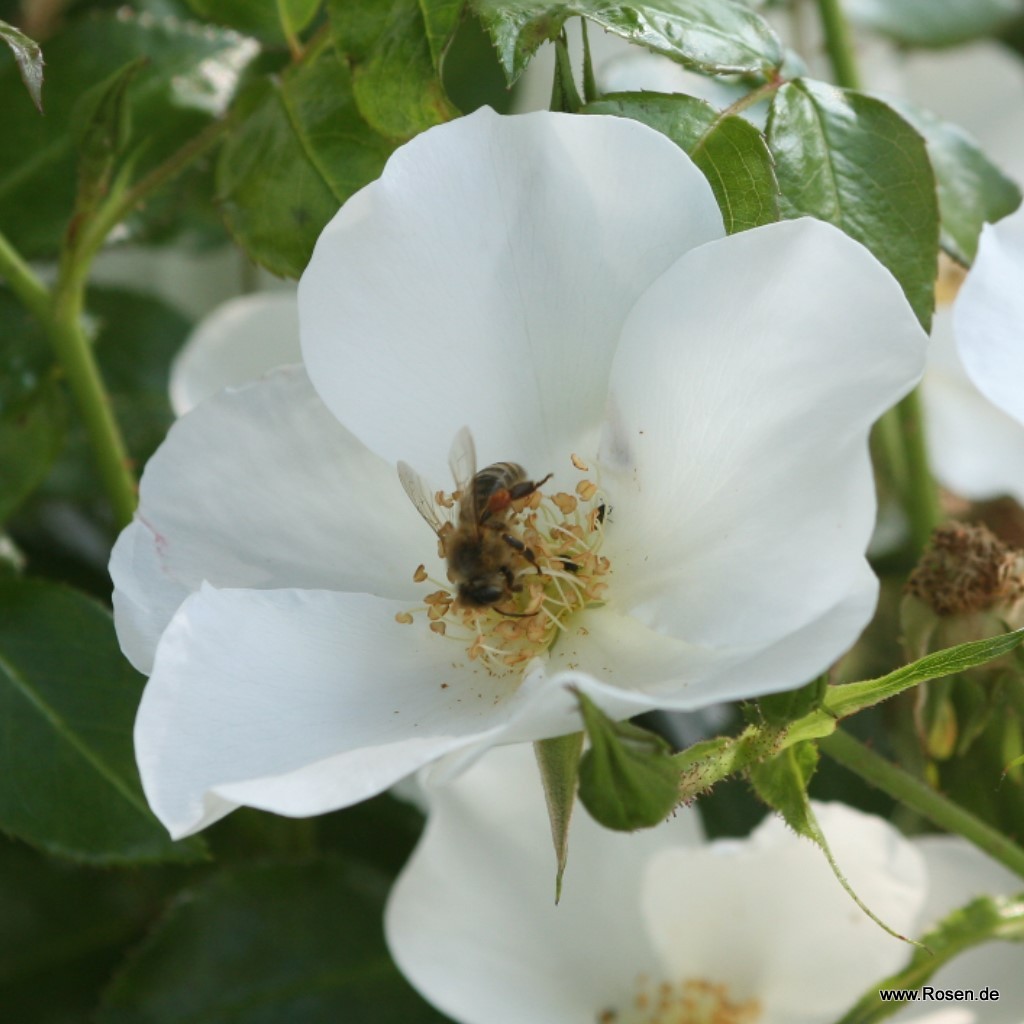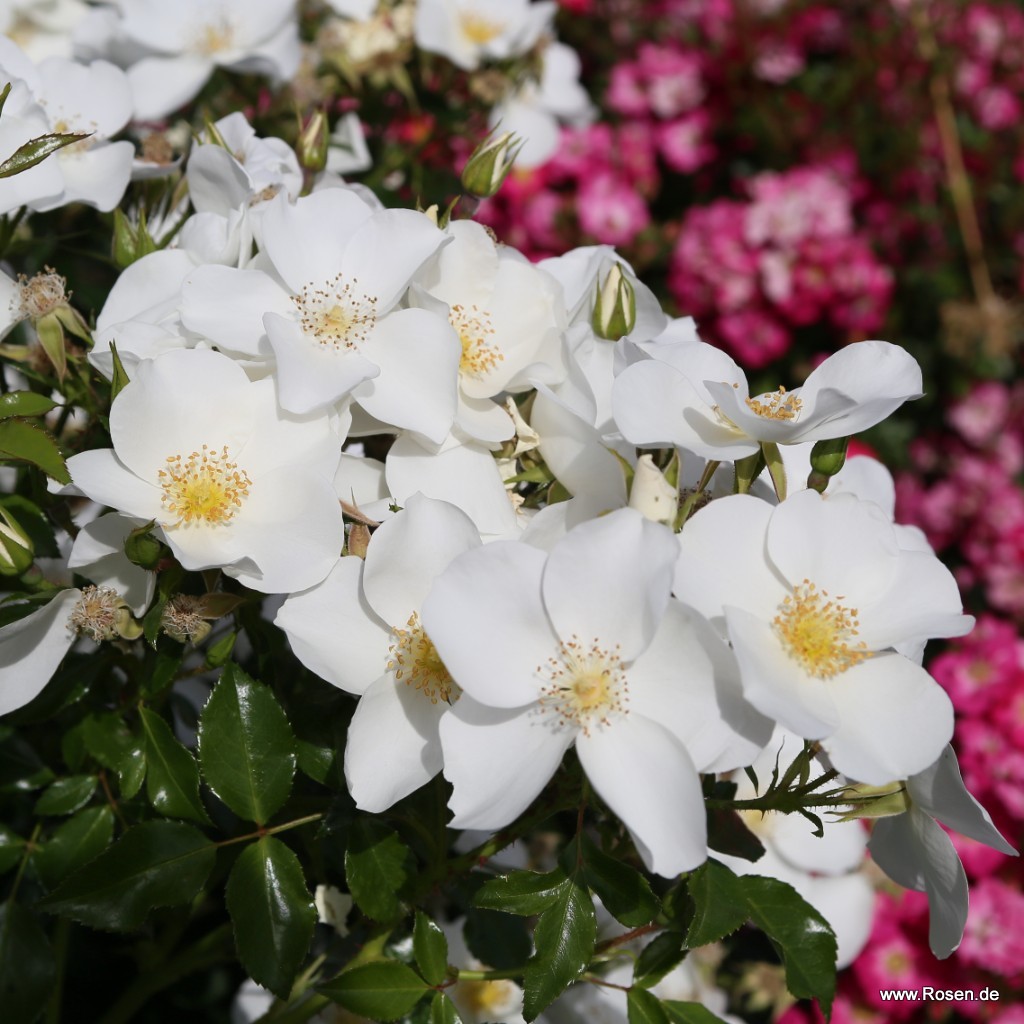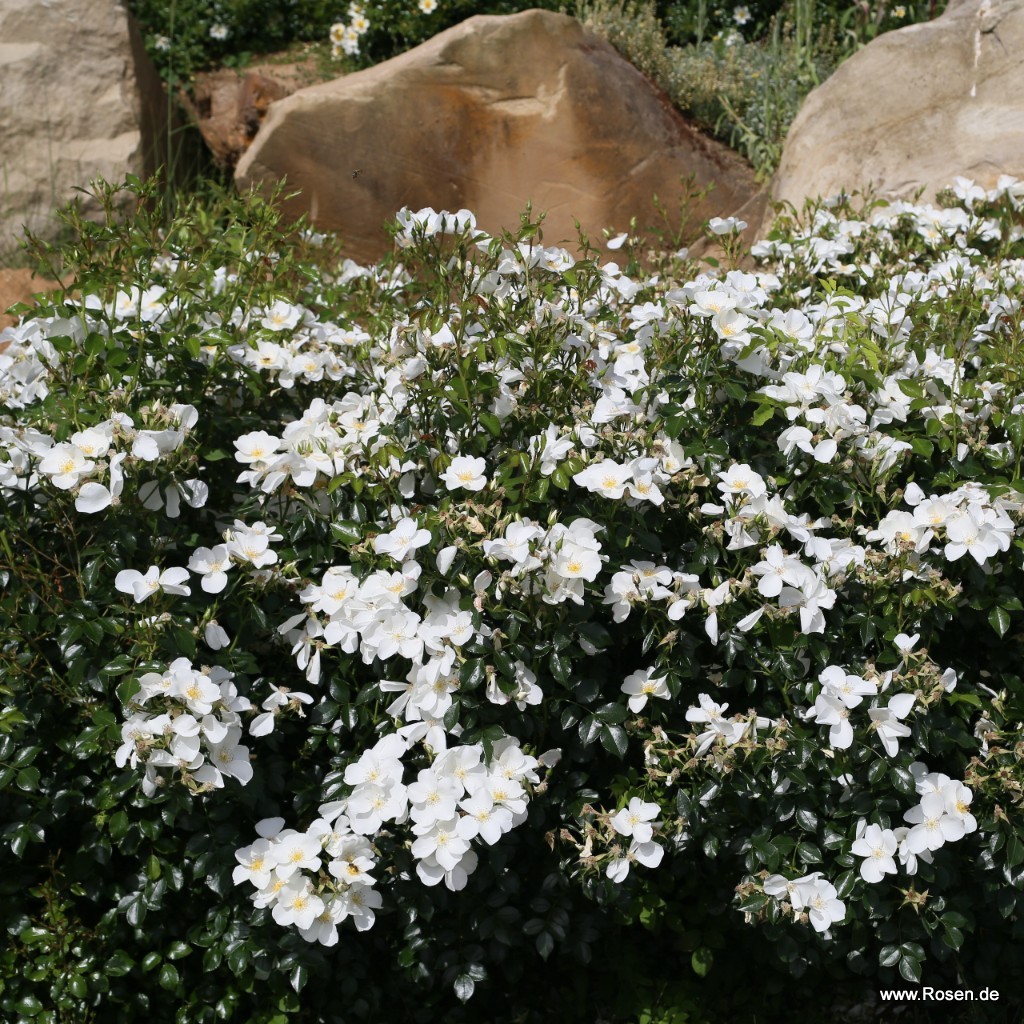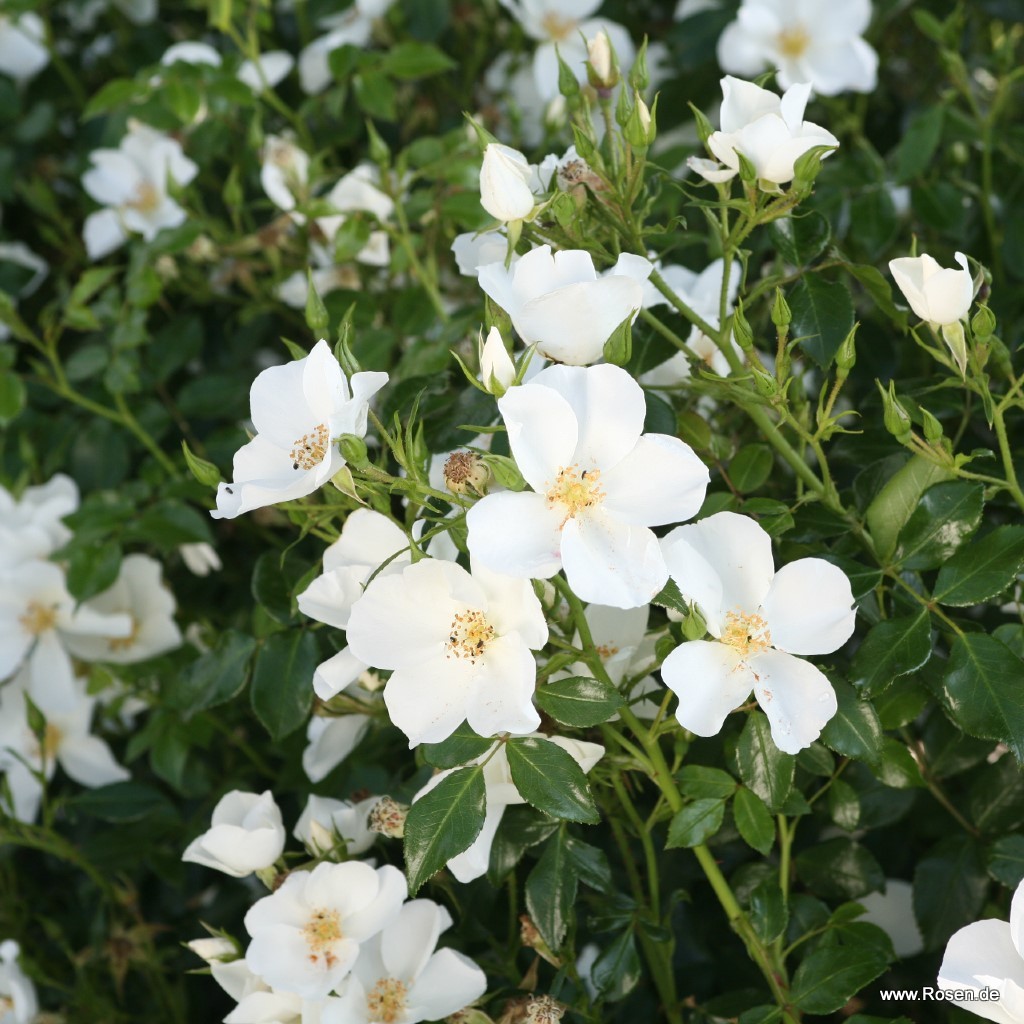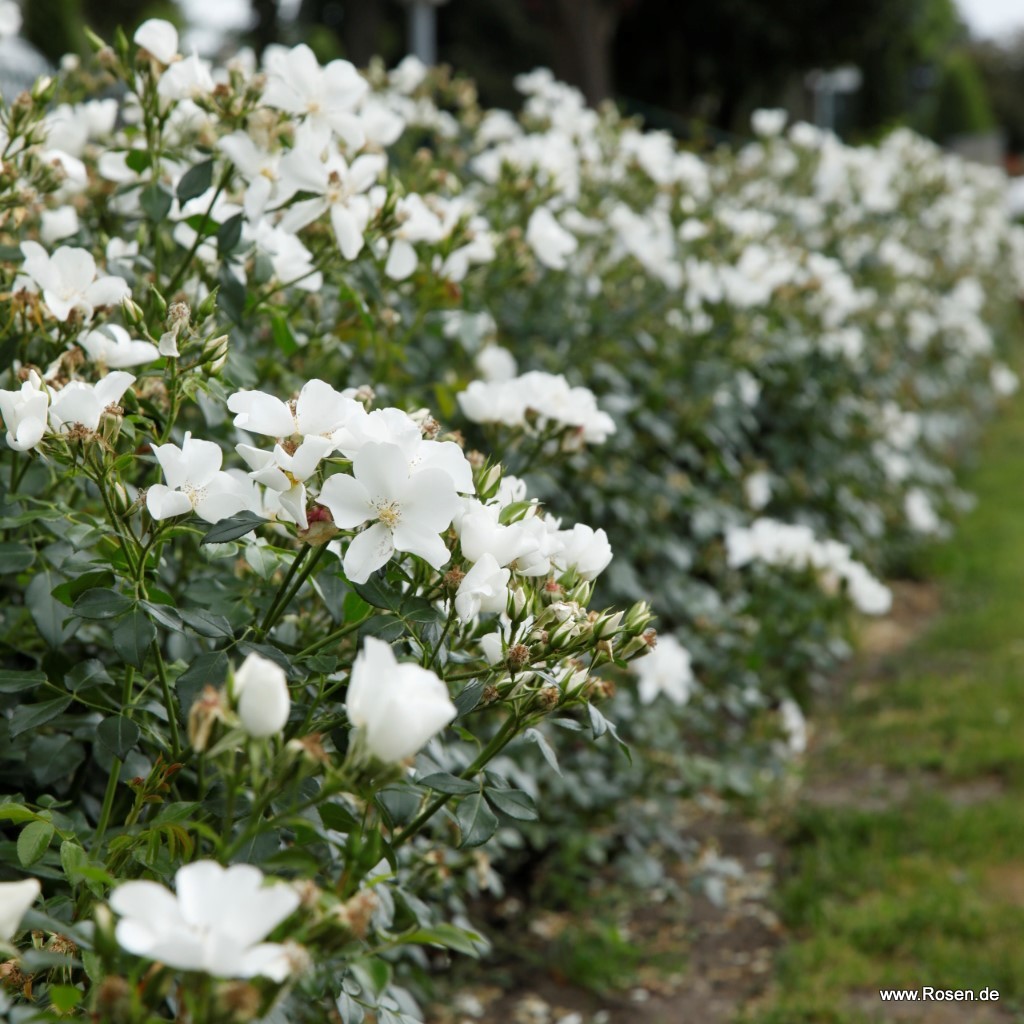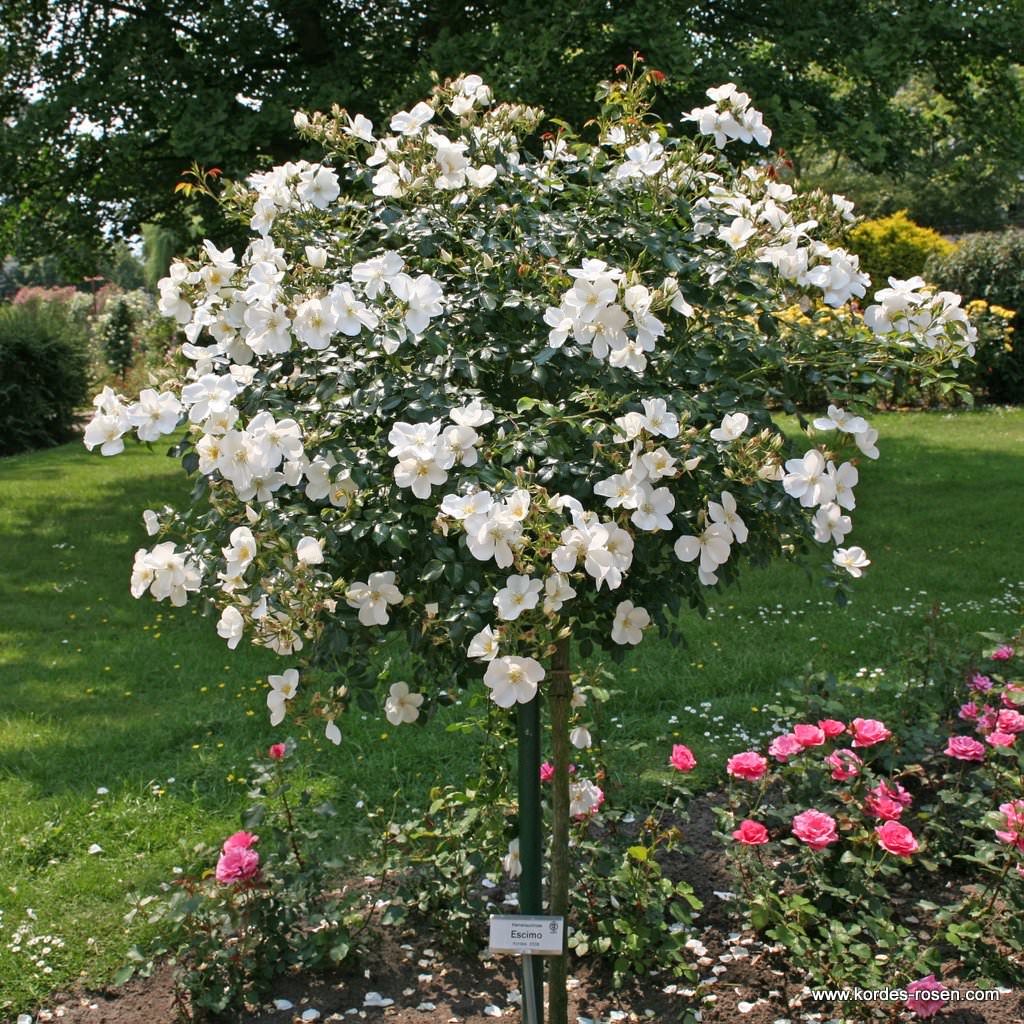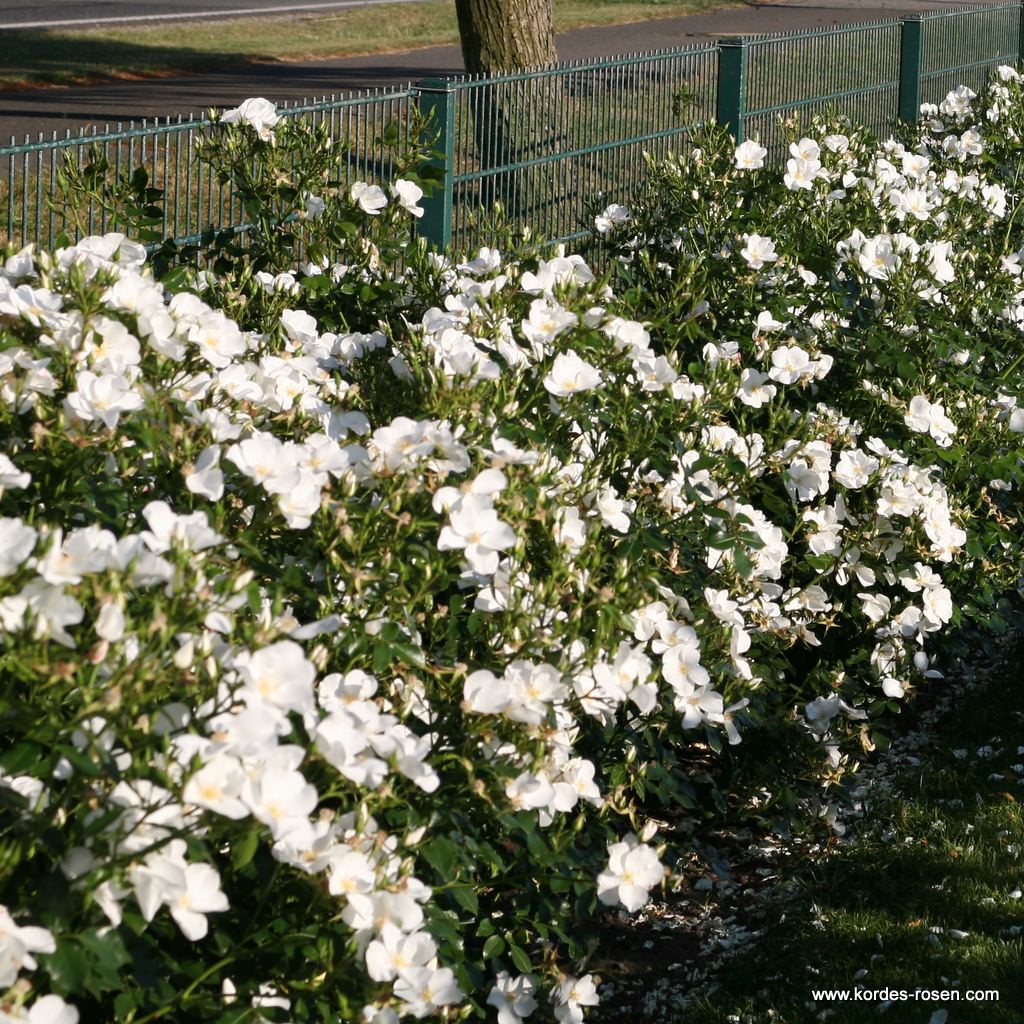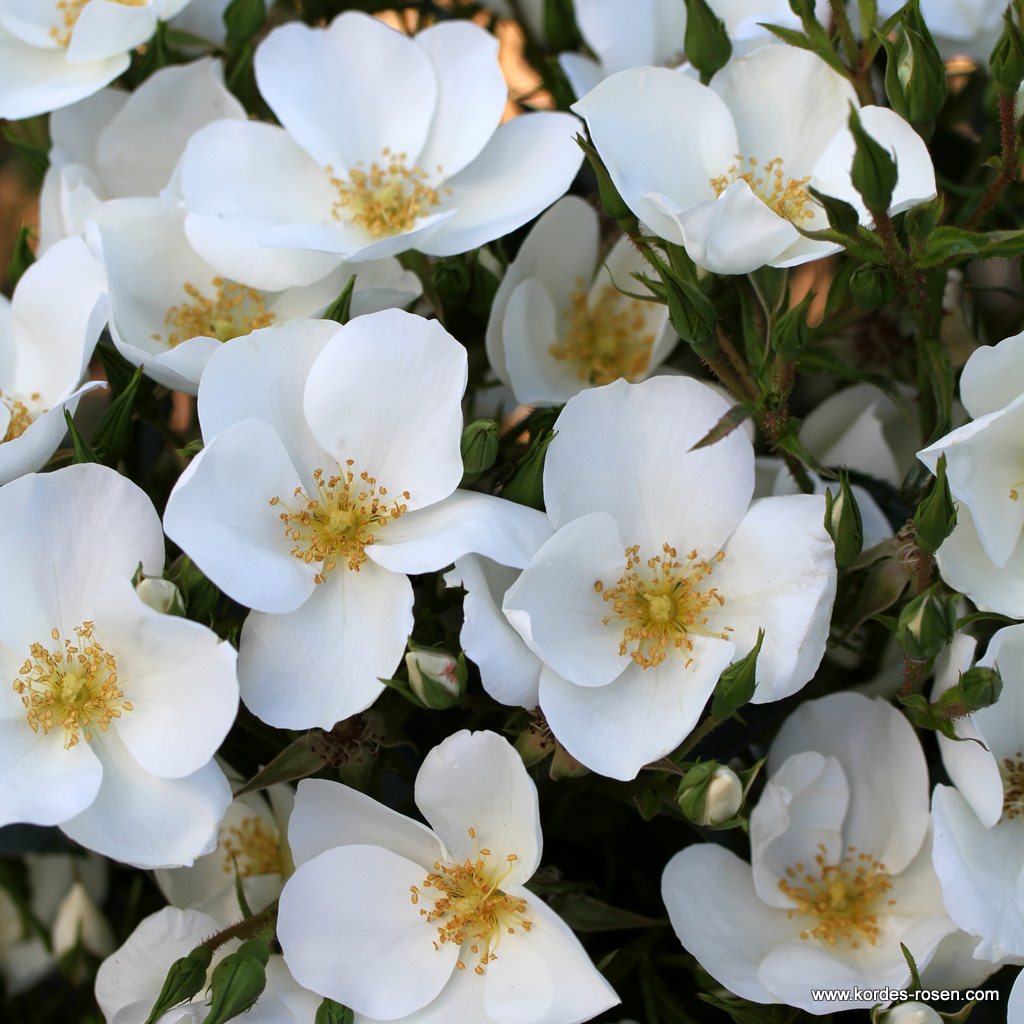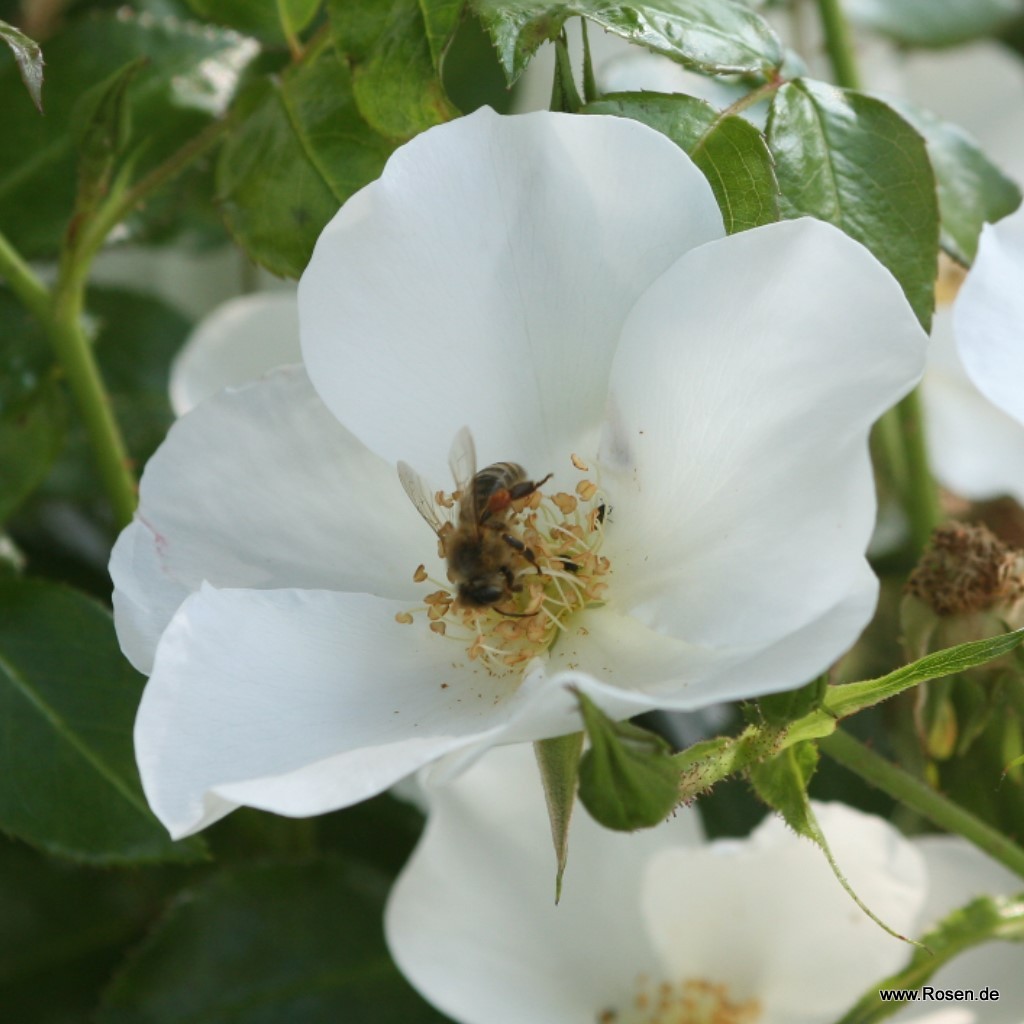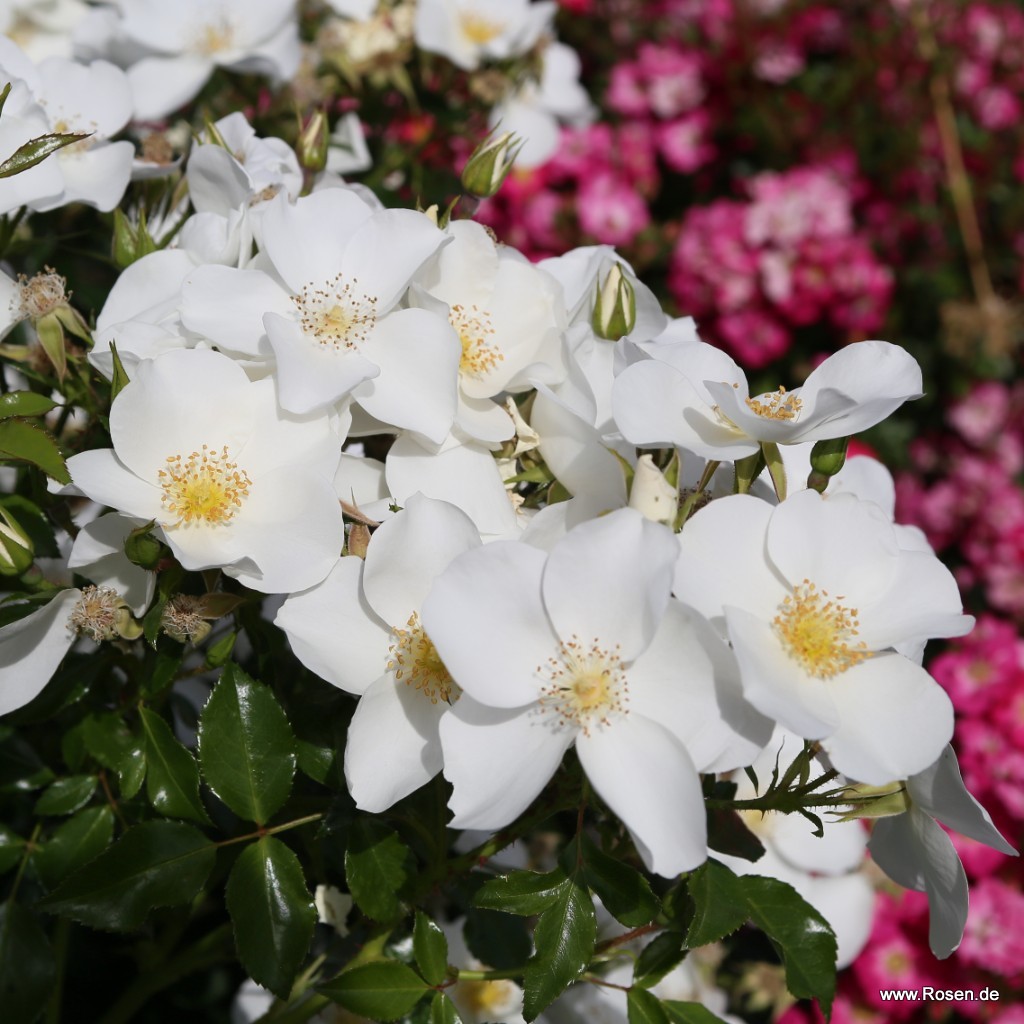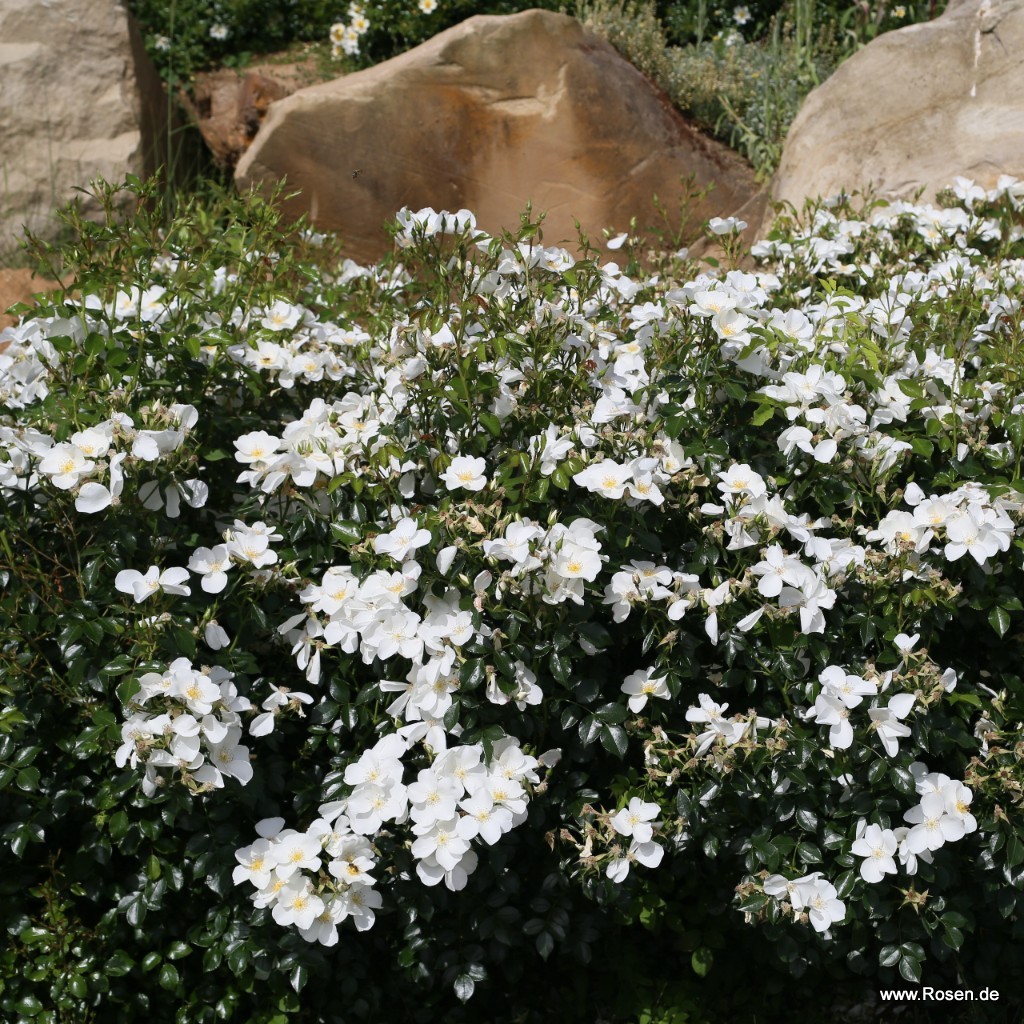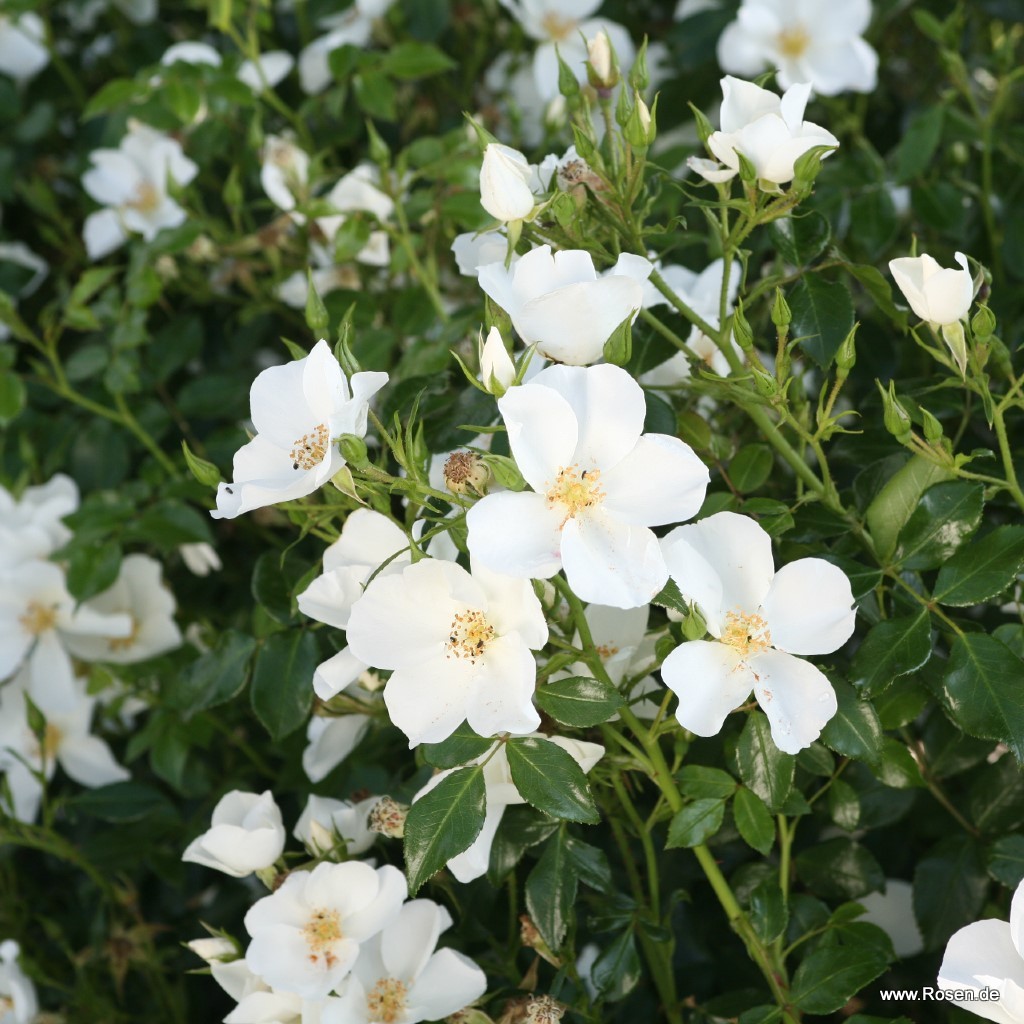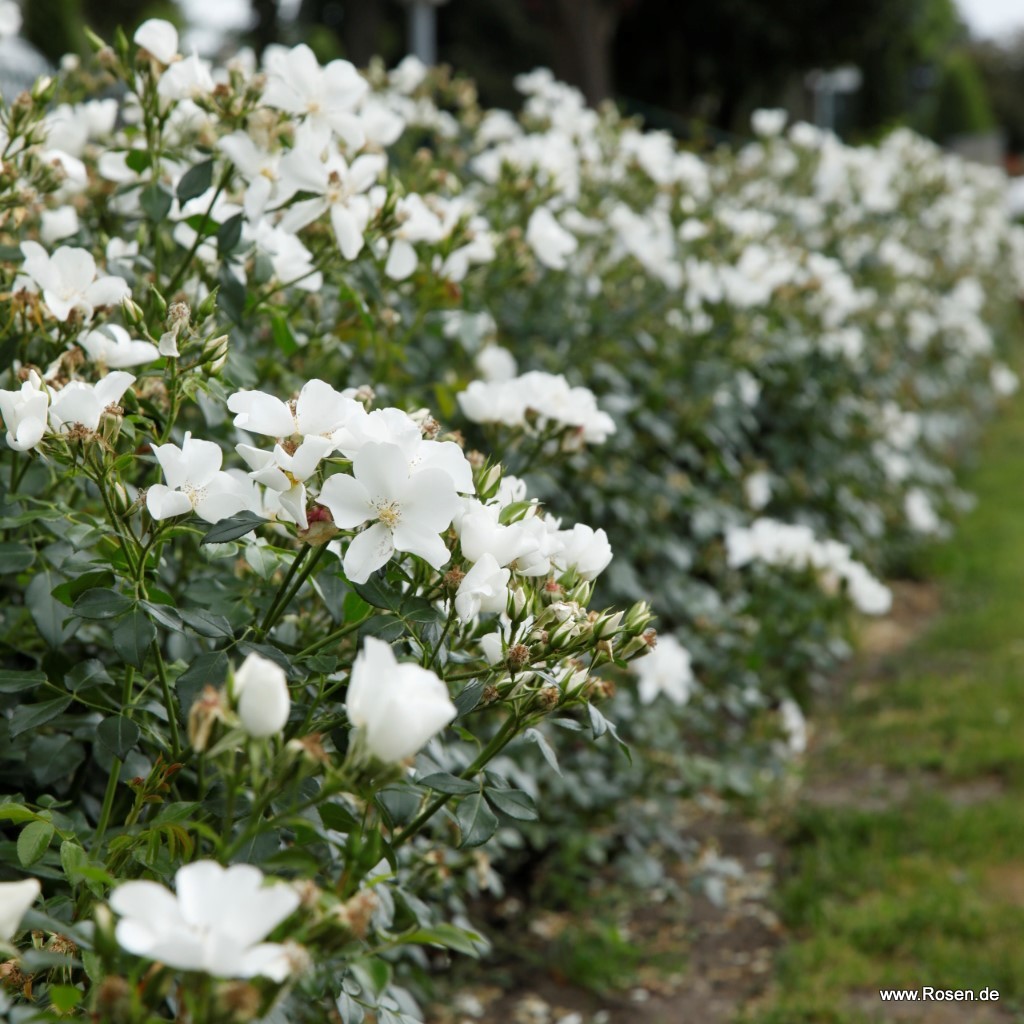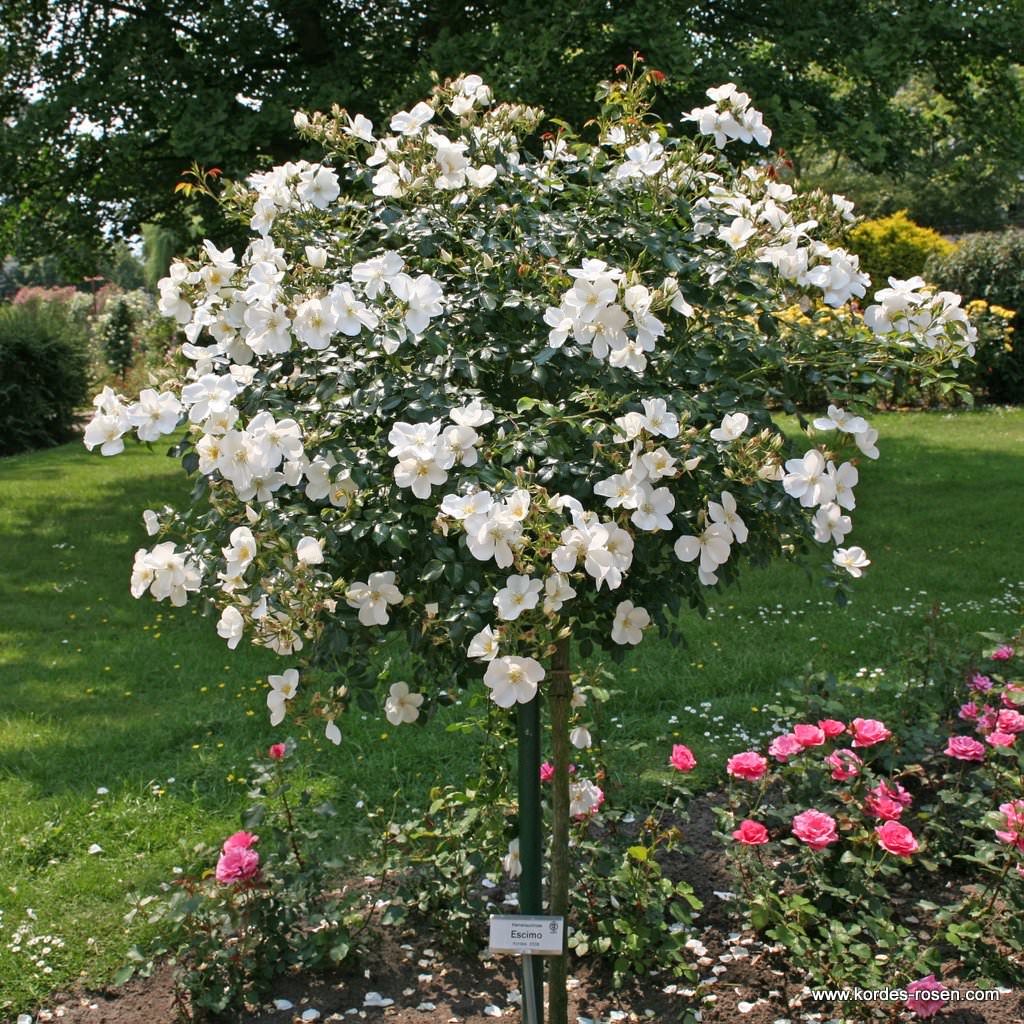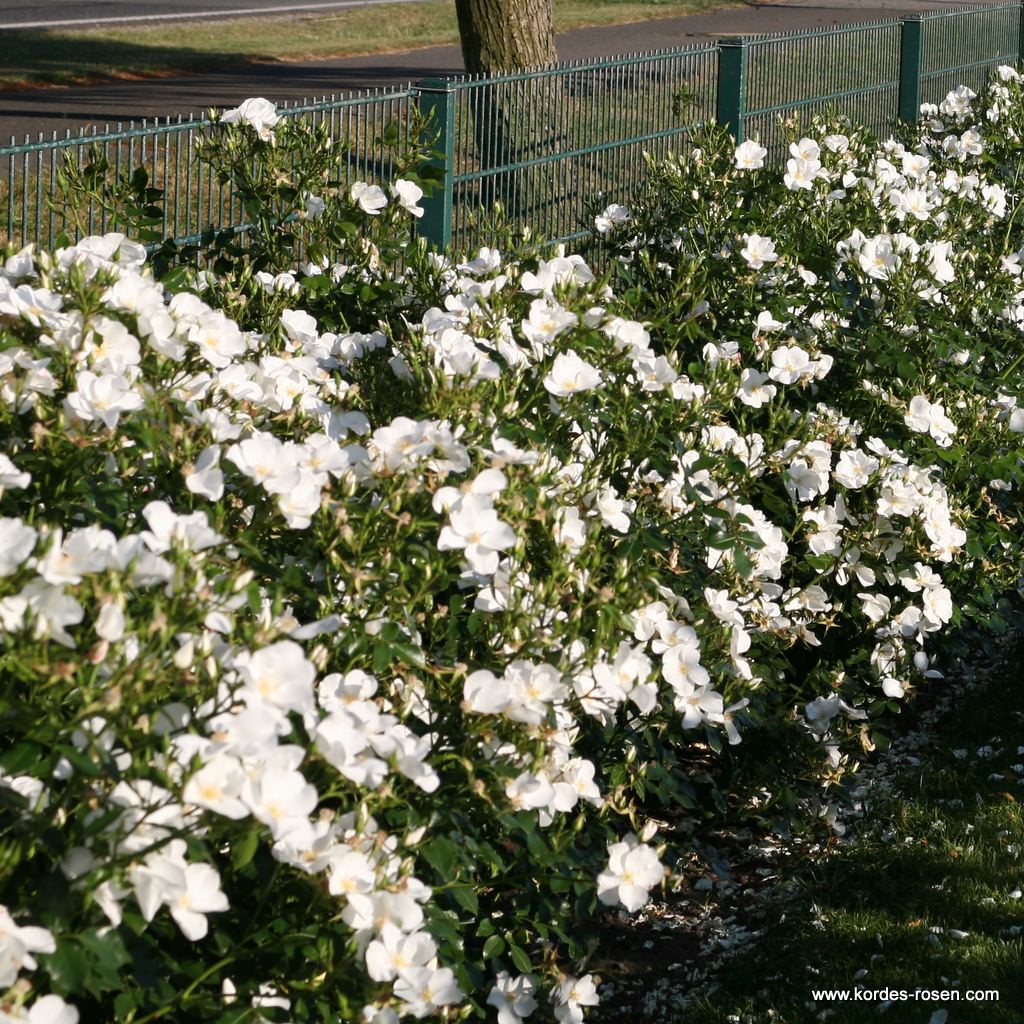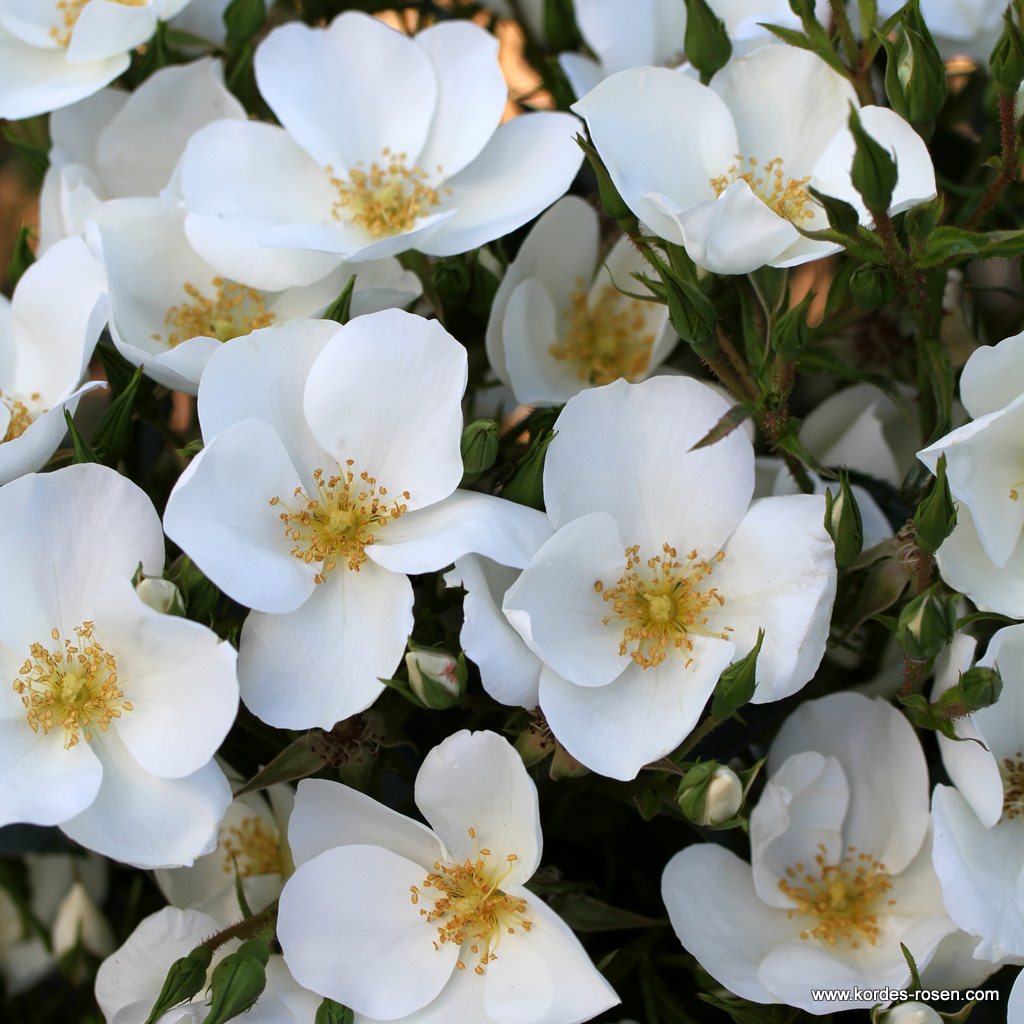 shrublet rose
Escimo®

erect, upright


Small shrub rose with harmonic growth and natural charm, very disease resistant foliage, decorated with white, resistant flowers from early spring to autumn. ADR 2006.
Characteristics
| | |
| --- | --- |
| Fragrance | |
| Petal Count | |
| Winter-hardiness | |
| Black Spot | |
| Mildew | |
| Rust | |
plants per m²:

3 - 4

flowering period:

repeat blooming

award:

ADR - label for the most beautiful and disease resistant roses

, Award Winner - prizes in international rose competitions

diameter:

5 cm

, 6 cm

natural height:

100 cm

natural width:

60 cm

plant:

erect, upright

resistance to diseases:

high

breeder:

W. Kordes' Söhne

location / use :

heat resistant

, honeybee pasture

, suitable for half-shades

, suitable for hedges

, suitable for ramparts

, weather resistant

year of introduction:

2006

collection:
Heckenzauber®

, Nectargarden

note:

The details refer to our location, soil and climate conditions and may vary.
---
Escimo planté en novembre 2018 qui a fleuri dès le premier été 2019. Ce rosier est remarquable pour sa résistance aux gels , à la sécheresse et à la canicule de 2022 ! Il est planté dans des conditions difficiles : sol sablonneux argileux béton et bitume ensoleillement maximal du matin au soir ( plein sud ) Il n'a pas faibli durant l' été 2022 ( juste ralenti la floraison ). Donc je me suis fiée aux indications de Kordes pour planter d'autres rosiers dans cette zone très difficile et j' ai choisi dans leur rubrique "exposition sud" un 2ème Escimo et 5 autres .J'ai confiance .
Diese Rose steht seit 2 Jahren bei mir im Topf. Die zahlreichen weißen Blüten strahlen auf dem dunklen Laub wie weiße Sterne. Außerdem ist die Rose sehr robust. Einziger Wermutstropfen ist, dass die Rose nur von wenigen Insekten besucht wird. Alles in allem aber eine sehr empfehlenswerte Rose :)
Schöne Rose - aber leider keine Bienen
Eine schöne Rose ohne Frage aber leider nicht die einzige Sorte aus dem Sortiment NektarGarten an dem sich keine Bienen oder Hummeln "laben". Schade. Insektenfreundlich - das war für uns ein wesentliches Kaufkriterium.
Die Escimo stehen bei mir im Garten seit vielen Jahren. "Klein"Strauchrose ist etwas untertrieben - sie erreichen bei mir gut einen Meter, trotz regelmäßigen und tiefen Rückschnitts, und das auch schlechtem Sandboden. Die Blüten leuchten von weitem, und gerade der erste Blütenflor ist beeindruckend. Die Blütenblätter sind essbar und haben ein sehr zrtes Aroma. Unser Hahn pflückt seinen Hennen die Blütenblätter, legt sie ihnen vor die Füße und gackert. Seitdem steht auch in jedem neuen Hühnergehege, das wir errichten, eine wurzelnackt gekaufte Escimo-Rose.
Eine unglaubliche Rose, die ich im Herbst 2018 als Hecke zwischen zwei Gartenbereichen gepflanzt habe. Sie blüht überreichlich bis zum Frost.. Sowohl die Bruthitze 2019 wie auch die Regenperioden 2020 steckte sie locker weg. Besonders charmant finde ich die gelben Staubblätter in den grossen ungefüllten Blüten. Das reine Weiss ist unglaublich schön in Kombination mit farbigen Stauden. Und die ganze Pracht und Schönheit für null Aufwand, ausser dem Frühlingsschnitt und etwas düngen nach dem Austrieb mache ich nichts. Die gebe ich nie wieder her!
Die Bienen lieben sie :-)
Die Bienen lieben sie :-)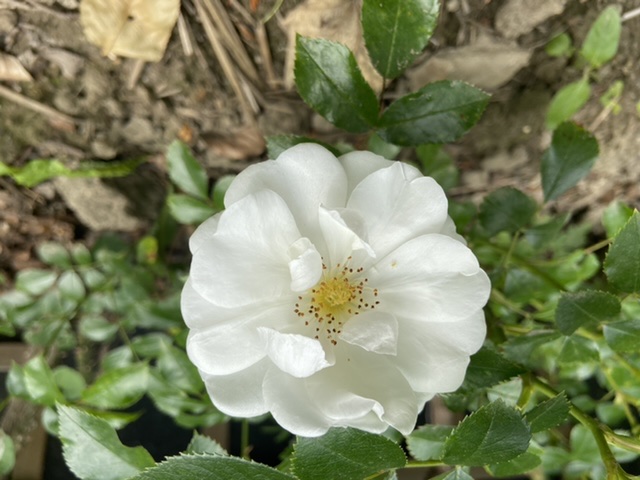 Reines weiß... Tolle Gesundheit. Blüht sehr lange, einfach perfekt
Schöne gesunde Rose, aber kein Insektenmagnet
Die Rose Escimo ist ein sehr schöne gesunde und wuchskräftige Rose. Insekten interessieren sich aber trotz der ungefüllten Blüten nicht für die Rose.
Als ich diese Rose zum ersten Mal auf der Insel Mainau sah, war ich hell begeistert. Rein weiße Blüten wie übergroße Himbeerblüten und das schöne dunkelgrüne, glänzende Laub! Ich bestellte im Herbst fünf Exemplare, die auch alle angewachsen und durch den schneereichen Winter gekommen sind. Jetzt blühen sie zum ersten mal und jeder, der vorbeikommt, ist fasziniert. Da die Rose schlicht weiß ist, passt sie zu allen anderen Rosenfarben und eignet sich hervorragend als Unterpflanzung unter Rosenstämm, denn sie bildet einen Kontrast zu den gefüllten Sorten. Hier am Bodensee schafft die Rose es auf über einen Meter Höhe und auch ein halbschattiger Standort macht ihr anscheinend nichts aus. Die Blätter sind gesund und es hängen niemals abgeblühte oder verregnete Blütenblätter an der Rose herum, sie sieht stets gepflegt aus, ohne dass man Abgeblühtes abschneiden muss. Escimo ist eine Superempfehlung.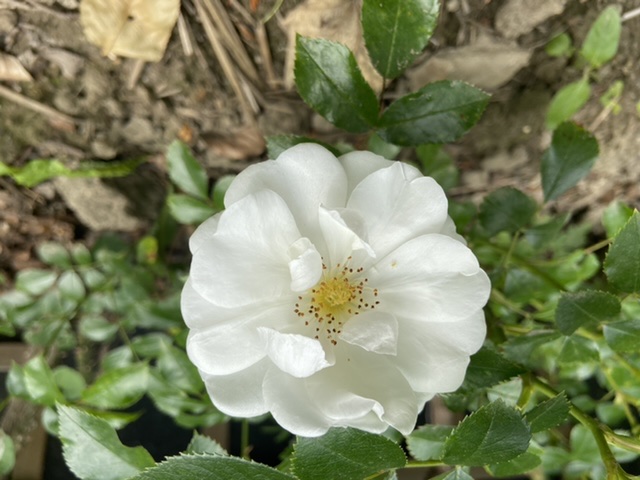 ---
Rose on own roots, 1,5-l-pot

shrublet rose
- Escimo®
Rose on own roots, 1,5-l-pot
delivery time:

from

02.10.2023
delivery period:

October

-

November

shrublet rose
- Escimo®
Bare-rooted rose, A-quality
delivery time:

from

09.10.2023
delivery period:

October

-

November
Plant-o-fix® pot, 2 liters, rooted

shrublet rose
- Escimo®
2-l-Plant-o-fix Pot with growth guarantee
delivery time:

from

02.10.2023
delivery period:

October

-

November