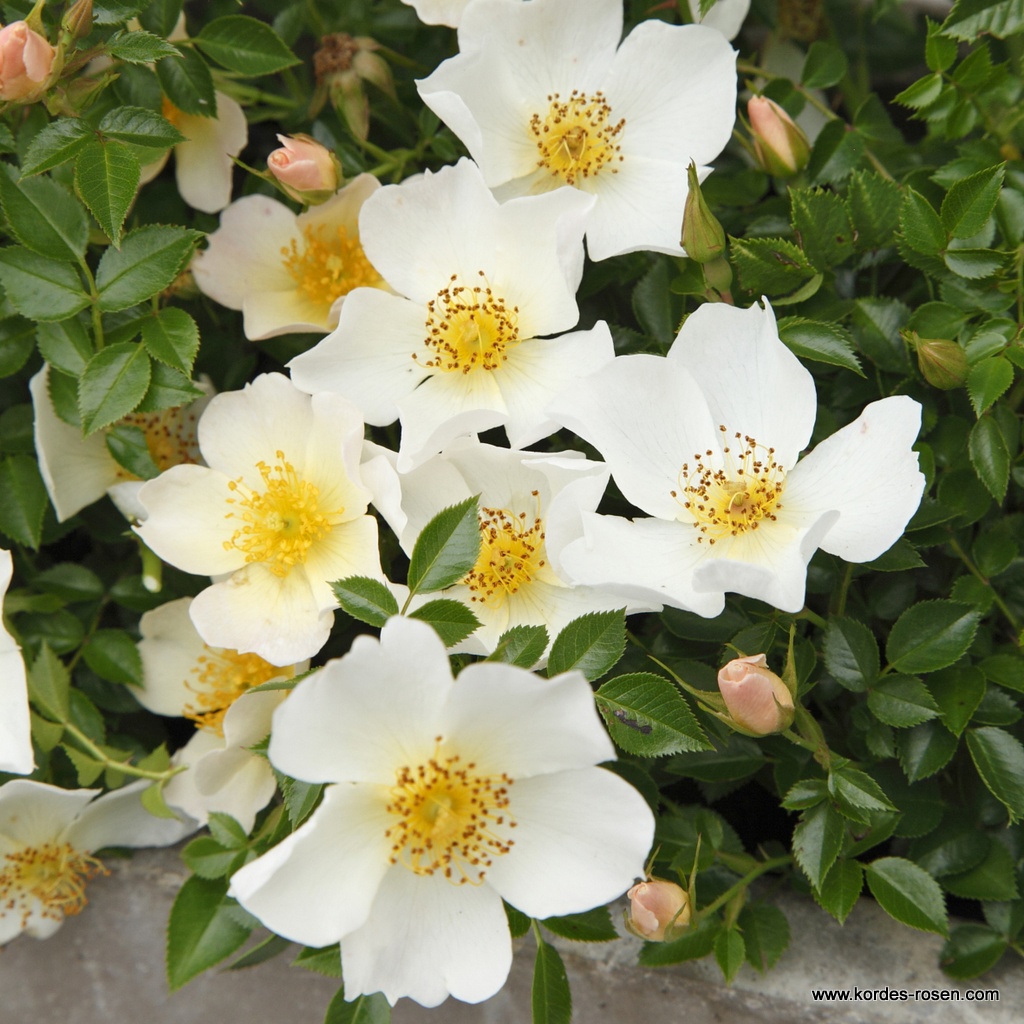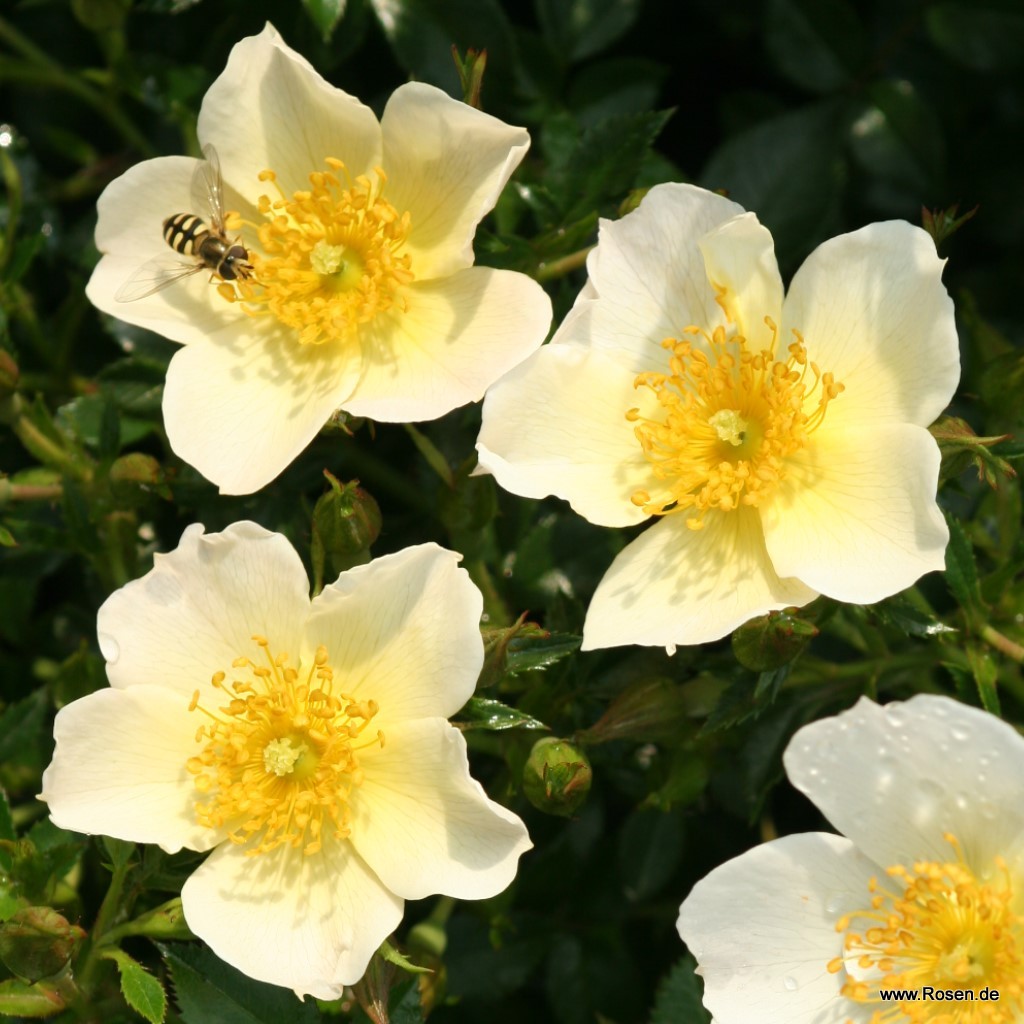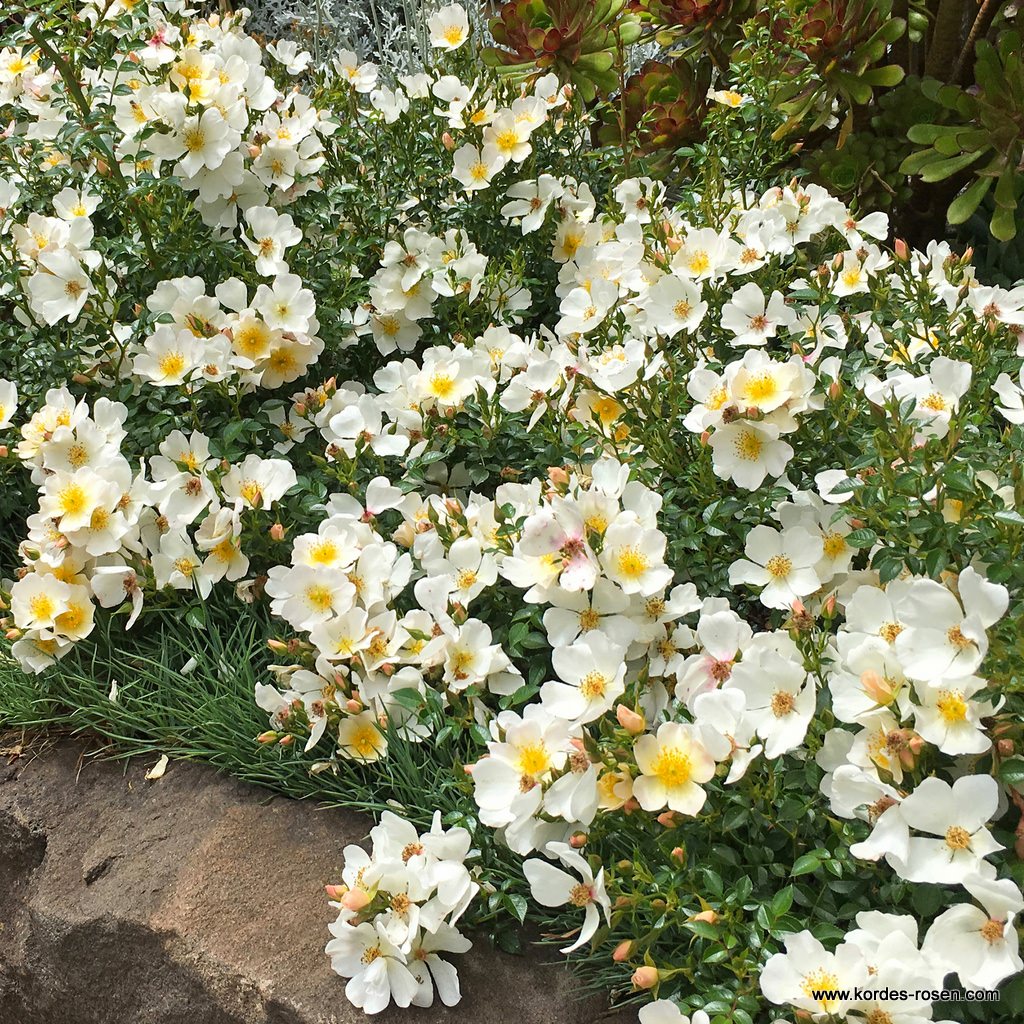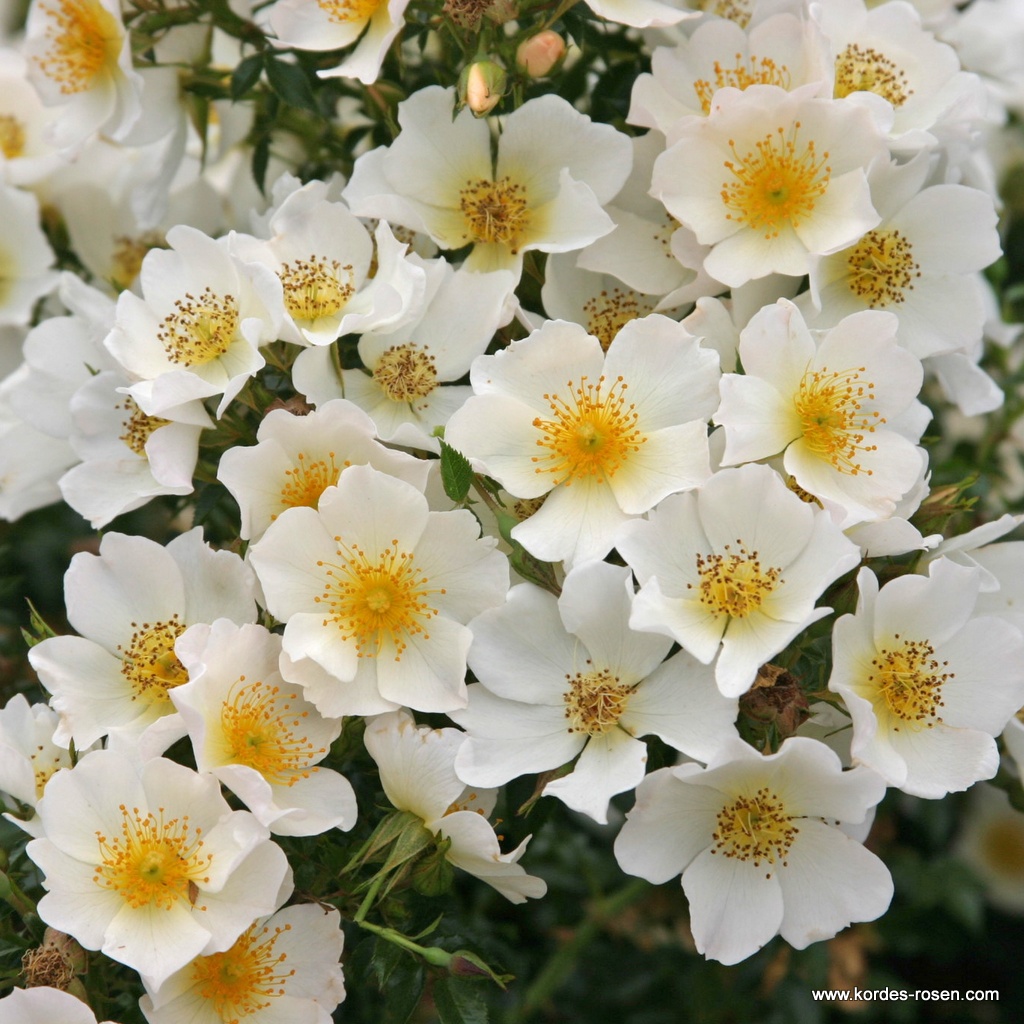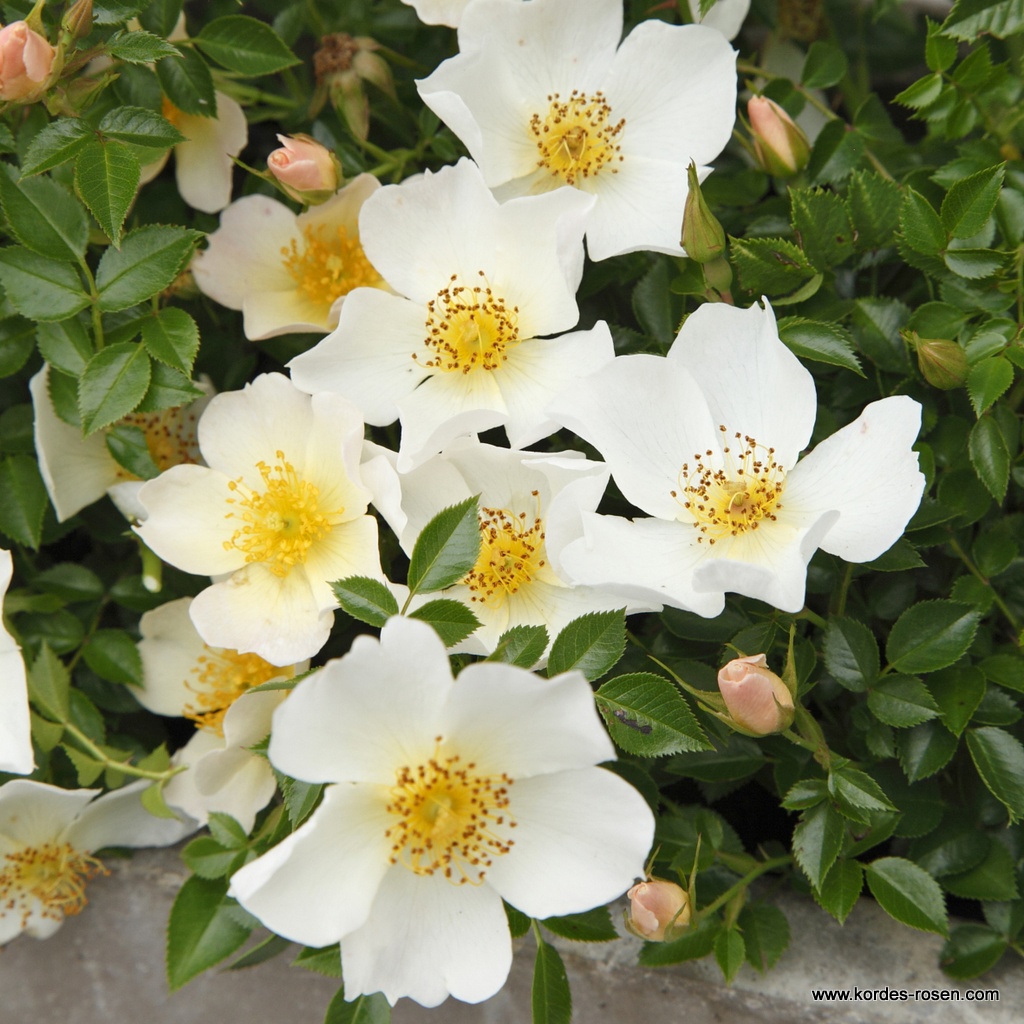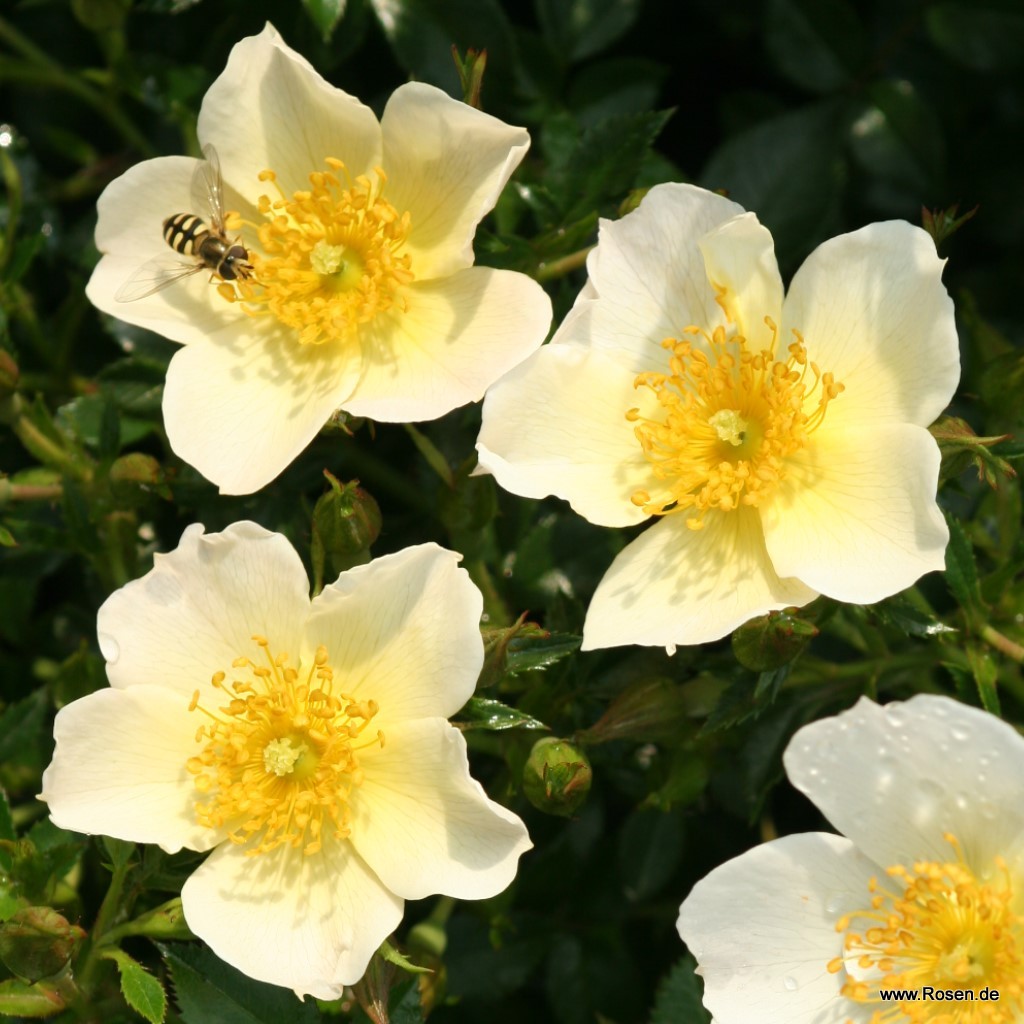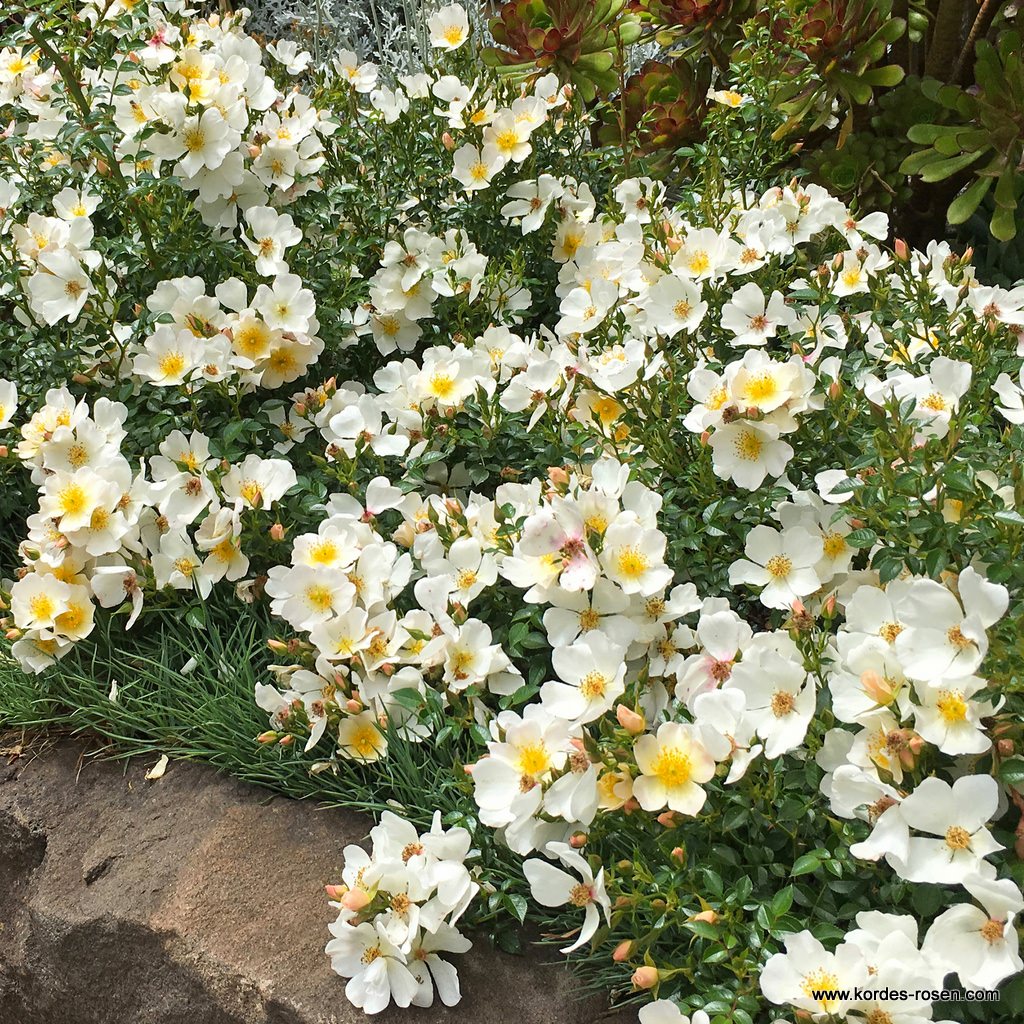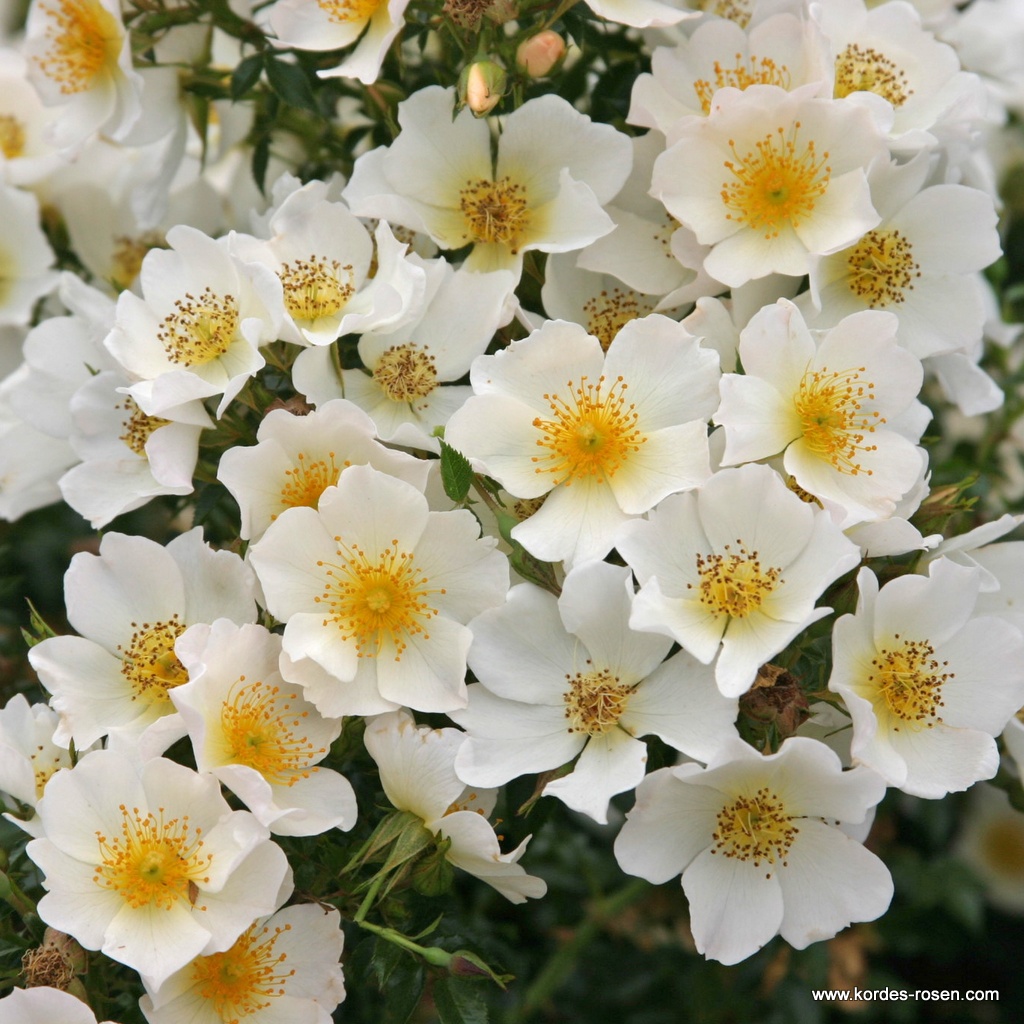 miniature rose
Sonnenröschen®
white with striking yellow eye

low, creeping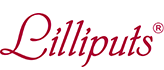 A miniature or ground cover rose with very healthy foliage, ideal for small and rock gardens or for cultivation in containers or tubs. ADR 2003.
Characteristics
| | |
| --- | --- |
| Fragrance | |
| Petal Count | |
| Winter-hardiness | |
| Black Spot | |
| Mildew | |
| Rust | |
plants per m²:

4 - 5

flowering period:

repeat blooming

award:

ADR - label for the most beautiful and disease resistant roses

, Award Winner - prizes in international rose competitions

diameter:

3 cm

, 4 cm

natural height:

30 cm

natural width:

50 cm

plant:

bushy upright growth

resistance to diseases:

excellent

breeder:

W. Kordes' Söhne

location / use :

honeybee pasture

, suitable for balcony boxes

, suitable for graveyards

, suitable for half-shades

, suitable for pots

, weather resistant

year of introduction:

2005

collection:
Lilliputs®
note:

The details refer to our location, soil and climate conditions and may vary.
---
Vor wenigen Monaten gepflanzt, kerngesund und schon in voller Blüte - ein wunderschönes Röschen
Vor wenigen Monaten gepflanzt, kerngesund und schon in voller Blüte - ein wunderschönes Röschen
Neulich habe die kleinen Sonnenröschen mitten im Sommer verpflanzt, und nach einem Monat blühen sie schon wieder wunderschön. Sie wächst selbst auf unserem Sandboden vorzüglich, verträgt auch etwas Halbschatten. Den Sternrußtau, den unsere Rosen hier oft bekommen, hat sie nie gehabt. Und sie behält ihre Blätter den ganzen Winter lang!!! Eine tolle Züchtung.
Ich kaufte diese Rose vor ca. 10 Jahren für einen winzigen Kübel der auf dem Balkongeländer hing (kaum 40cm hoch und nur 20x40 breit). viel zu klein aber es klappte gut. Nur Blüten gab es immer sehr wenige. Seit 1.5 Jahren ist sie nun im Garten (lehmiger Boden) und geht ab wie eine Rakete! Von wegen 50cm Breite, ich habe 1.5 METER lange Triebe!!! :) Generell wächst sie eher "Spinnenartig", denke max so 50cm hoch und dann fallen die Triebe runter und krabbeln am Boden aber weiter entlang. Knospen sehe ich auch schon sehr viele aber offen sind leider noch kaum welche.. Das ist von meinen inzwischen gut 30 Rosen auch die einzige die NOCH NIE ETWAS HATTE. Weder Mehltau noch Blattläuse/MIlben etc. Nichts. Auch im Winter verlor sie anscheinend kein einziges Blatt und war immer grün. Das sieht super schön aus da sie ganz winzig kleine satt grüne Blätter hat. Als Bodendecker echt TOP! :)
Das Sonnenröschen ist absolut hart im Nehmen und blüht dennoch reich. In den letzten beiden trockenen Hitzsommern hatte das Sonnenröschen verglichen mit anderen Rosen im Garten die wenigsten Probleme. Auch längere feuchte Witterung kann den Blühten nichts anhaben. Eine optimale Rose für die immer heißer und trockner werdenden Sommer.
Absolut robuste und blühwillige Zwergrose. Und das ist das die Bienen auch auf Ihre Kosten kommen. Herzlichen Glückwunsch an Kordes für diese tolle Sorte
Im Balkonkasten leider nicht winterhart.
Unglücklicherweise vertrug die Pflanze nicht den späten Wintereinbruch 2018 und ging ein... Um sie als alleinige Frühjahrsbepflanzung zu nutzen, ist sie mir schlicht zu teuer - zumal sie im ersten Standjahr 2017 nur verhalten blühte.
Strong, healthy, wet weather resistant, everything a ground cover rose needs to be. I was a little bit afraid of the dominating yellow eye, but the flower in its total is much more white than on the photo. Perfect!!!
Als Hummel- und Bienenfreundin liebe ich die einfachblühenden Rosen wie das Sonnenröschen. Es ist klein und fein und blüht unermüdlich lange für die fleißigen Bienen. Das Zwergenröschen ist zudem kerngesund und wuchsfreudig. Die weissen Blüten leuchten sehr schön im Dunkeln.
hat viele Jahre im Tontopf überwintert,blüht z.T.in Schüben durch und ist absolut blattgesund. Apart zusammen mit rosafarbenem, kleinem Schleierkraut- wie ein Blumenstrauß.Beliebt bei Bienen.
Haben diese Rosen auf dem Friedhof auf ein Urnengrab gepflanzt. Blüht den ganzen Sommer unermüdlich wie auf dem Bild und ist sehr gut winterhart - wir wohnen im Harzvorland und da sind Temperaturen über 20 Grad Minus keine Seltenheit. Die Blüten ziehen viele Bienen.